Tool Steel D3M Cr8 Alloy Steel Bar Cold Work Alloy Steel Mould Steel Die Cr12
<CR8 can not only guarantee high hardness and wear resistance, but also avoid the weakness of poor toughness and brittle crack of the steel.Increase silicon, manganese content can improve hardenability.The steel has high hardenability, high hardness and high wear resistance.>
Product Base Information:
Product Technique:
1.International Standard
| | | | |
| --- | --- | --- | --- |
| GB | DIN | ASIA | JIS |
| Cr8 | 1.2080 | D3M | - |
2.Chemical Composition(Wt
%
)
:
D3M

C

Si

Mn

Cr

Mo

S

P

V

1.90-2.20

0.10-0.60

0.20-0.60

8.0-8.5

1.80-2.20

≤0.003

≤0.003

0.20-0.50
3

.Available Size(mm)

:
Flat Bar Size

Round Bar Size(mm)

Thickness

Width

Length

Diameter

Length

6-400

100-1500

2000-5800

6-400

9000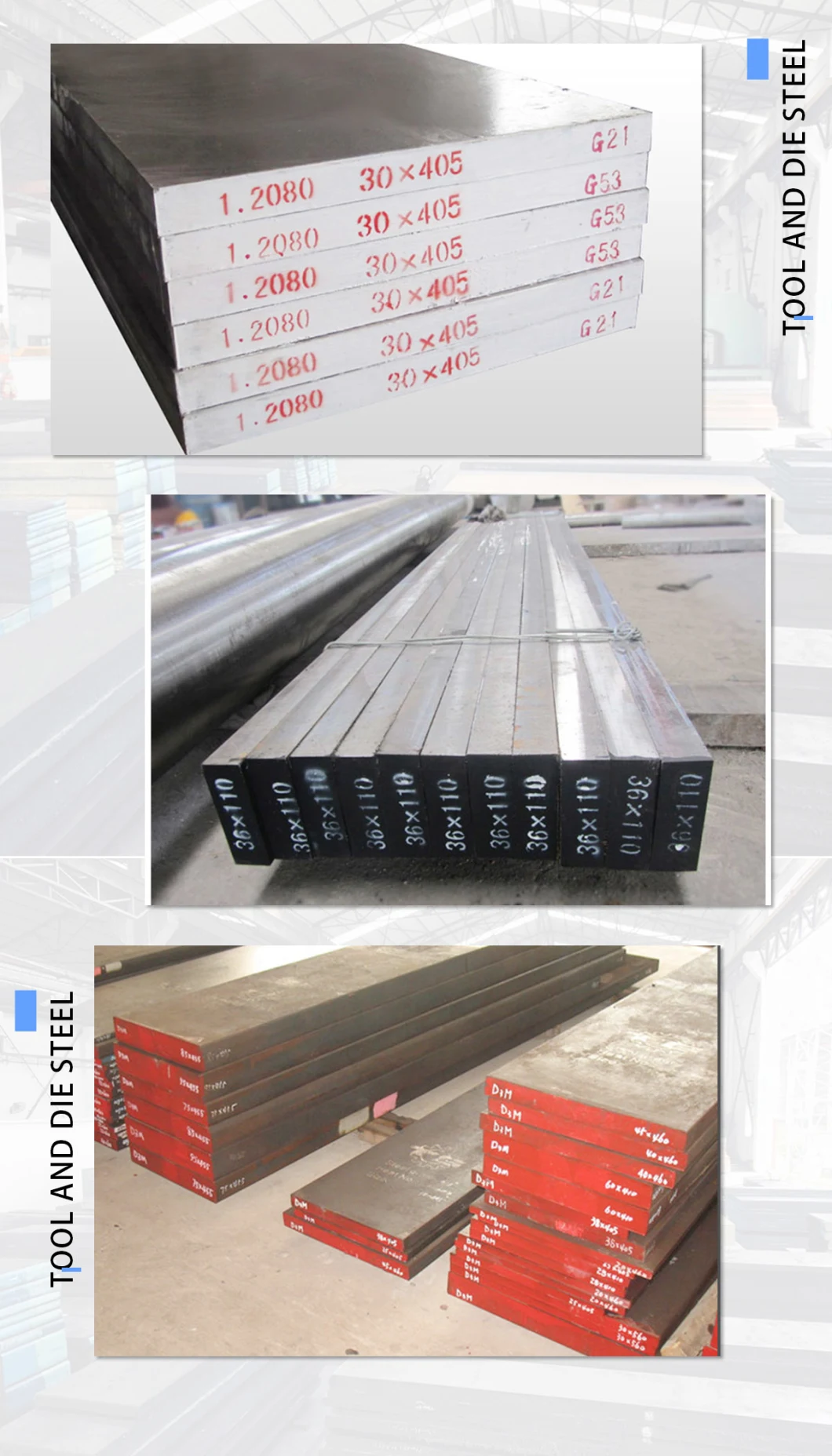 Product Process:

1. Electric-Furnace Smelting(EF)→Ladle Furnace(LF)→Vacuum Degassing(VD)→ Argon protected ingot →Multidirectional Forging → (Concave forging →)Normalizing+Hydrogen Diffusion Annealing → Ultrasonic Flaw Detection →Queching+Tempering Prehardened


2. Product Performance:
1.Easy to be machined and ground. The machinability and grind ability are better than SKD11, so the tool life is longer and the machining time is less.
2. The advantages of heat treatment are that the hardening capacity of quenching is higher than that of SKD11, so the defect of insufficient hardness in vacuum heat treatment can be improved.
3. Advantages in wire cutting processing: high-temperature tempering can reduce residual stress and eliminate residual austenite, preventing cracks and deformation caused by wire cutting.
4. Advantages of surface hardening treatment: the surface hardness after surface hardening treatment is higher than that of SKD11, so the mold performance can be improved.
5. Advantages in repairing and welding operations: since the preheating and post-heating temperatures are lower than those of SKD11, it is easier to repair and weld. Features: universal cold die steel, high hardness, high toughness DC53 die steel
3. Heat treatment:
Quenching
Tempering

Annealing

Heating temperature/ºC

Cooling way

Hardness

Tempering temperature




/ºC

Tempering number

Hardness




(HRC)

Delivery h

ardness




(HB)

First preheating

Second preheating

last preheating

170-230

2

61-63

235

500-600

820-86

0

1010-1060

Oil Cooling

60-6

Application:
Widely used in a die casting mold, hot extruding die, brass casting die, high strength plastic dies, etc.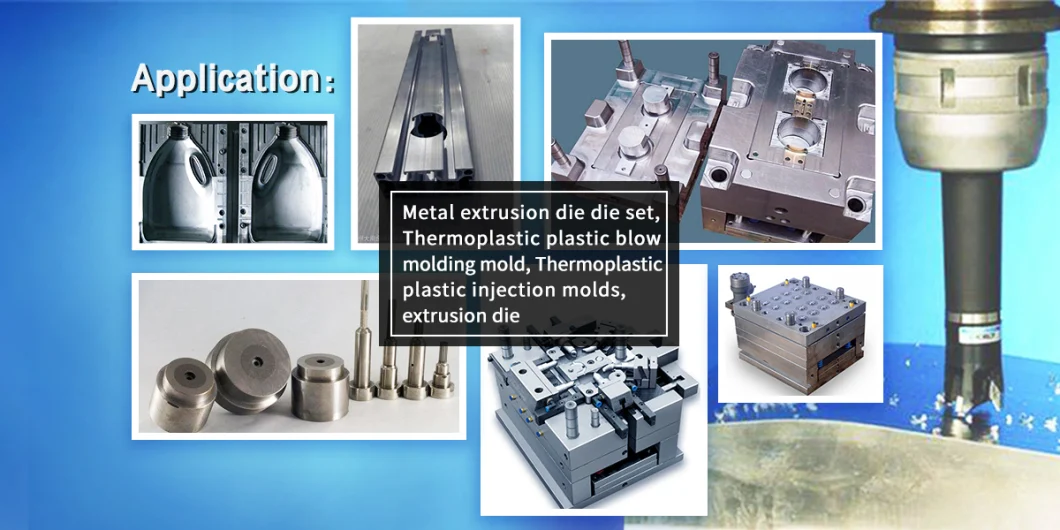 Hong Kong JIMI STEEL (XINGXIONG CO., Ltd) XINGXIONG Co., Ltd. Was established in 2012, located in the Shunde District of Guangdong Province, It is an import and export trading company mainly engaged in advanced special steel, die steel, alloy steel, and steel processing general machinery and equipment. The company adheres to the concept of "high quality, high requirements and good faith",

Cooperating with more than 20 famous steel mills in China, rich in spot stock of products.
Our company has a variety of processing equipment and all kinds of inspection and testing equipment, such as horizontal sawing machine, vertical sawing machine, milling machine, bilateral milling machine, precision milling machine, plane grinder and so on. The products with short producing time, excellent quality and high precision can provide a high-quality product choice for the vast number of customers at home and abroad.

Our customer group spread all over the domestic provinces and cities, abroad including Europe, the United States, Australia, the Middle East, Southeast Asia and other more than 20 countries and regions, along with over 100 long-term stable cooperation customers...Choosing Xingxiong will bring you a better experience.
Hot Sale Grade Of Steel & Produce Machine:
PLASTIC MOULD STEEL: 1.2311, 1.2312, 1.2738, P20, 1.2083, 1.2316, NAK80, P40, 1.2738HH

HOT WORK MOULD STEEL: 1.2344, SKD61, H13, H11, FDAC, 8407

COLD WORL MOULD STEEL: SKD11, D3, SKS3, 1.2080, 1.2379, CR12MOV, O1, D2

STRUCTURAL ALLOY STEEL: 4140, 20CR, 40Cr, 35CrMo, 42CrMo, 38CrmoAi, SCM440, SCM420, 1.7225

CARBON STEEL &: Q235, Gcr15, S45C, S50C, S55C

CNC surface grinding machine, NC side boring machine, Band saw, CNC double head machine, Vertical Band saw, CNC milling machine, Double alloy saw blade, wireless remote control crane, Magnetic chuck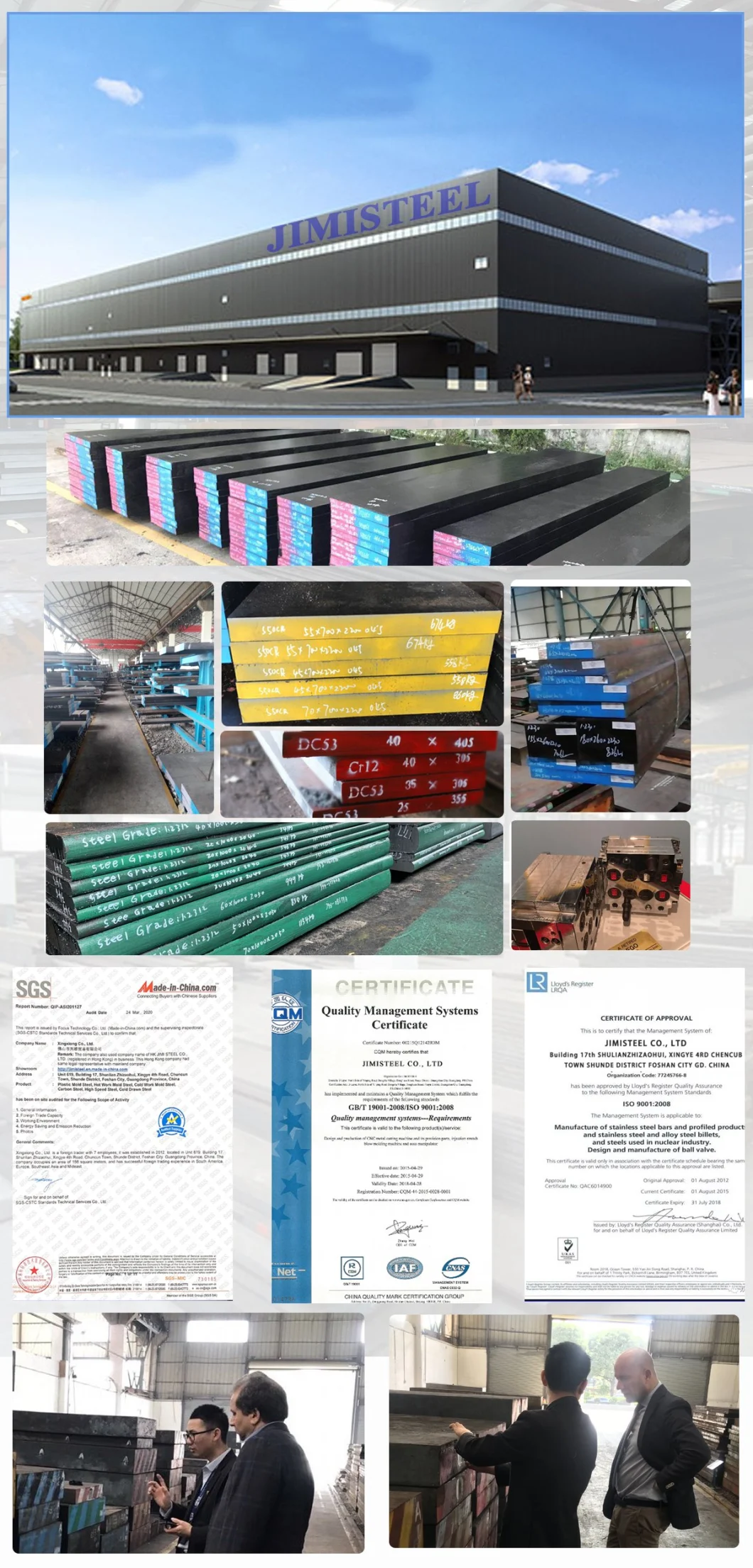 Stock:
High-quality stock for various steel flat bar and round bar.
Alloy steel / Cold work steel / Hot work steel / Plastic mold steel and Stainless
For more tool and die steel please check the list: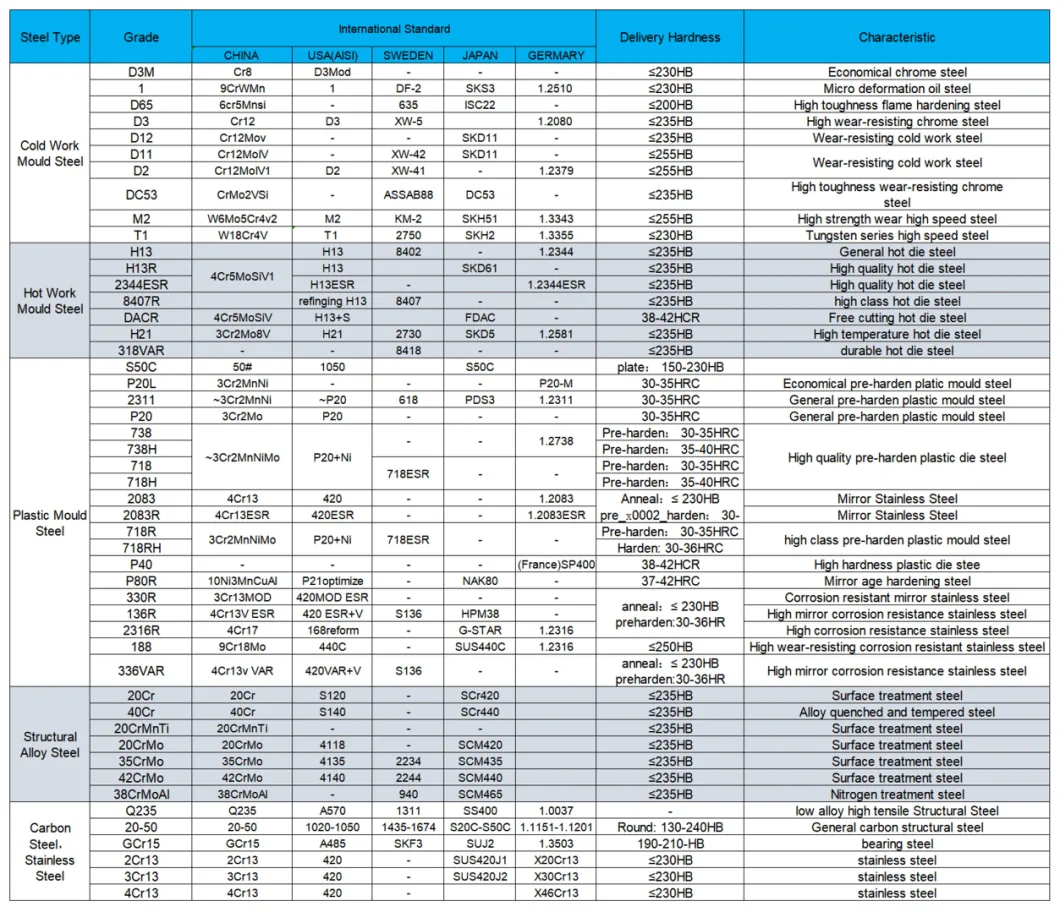 Cutting:
A. Steel plates: Cutting by bandsaw machine, milling, heat treatment, etc
B. Round bars: Cutting by bandsaw machine, peeling, grinding and turned, heat treatment, etc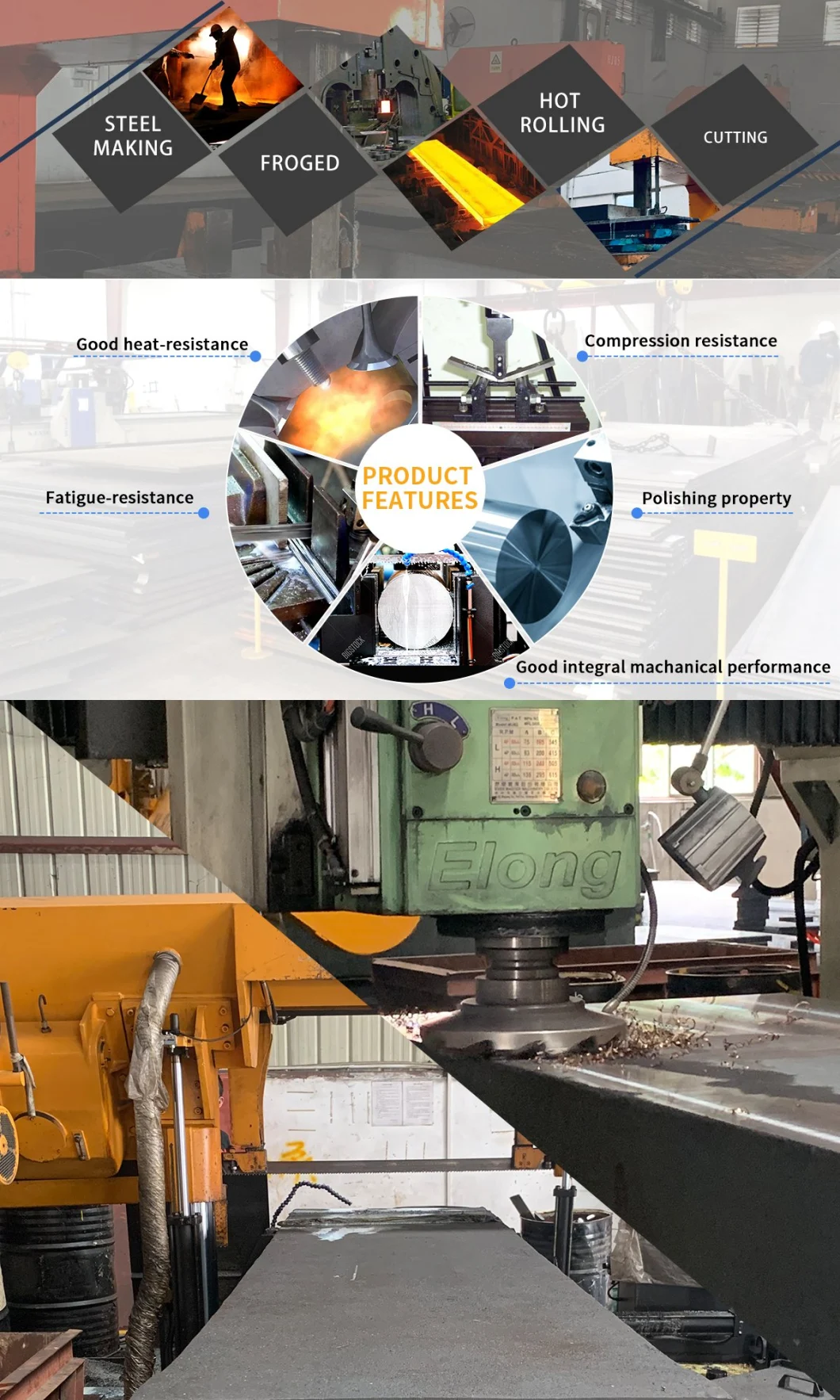 Quality Test:
SGS/Ut100%/Elements Testing: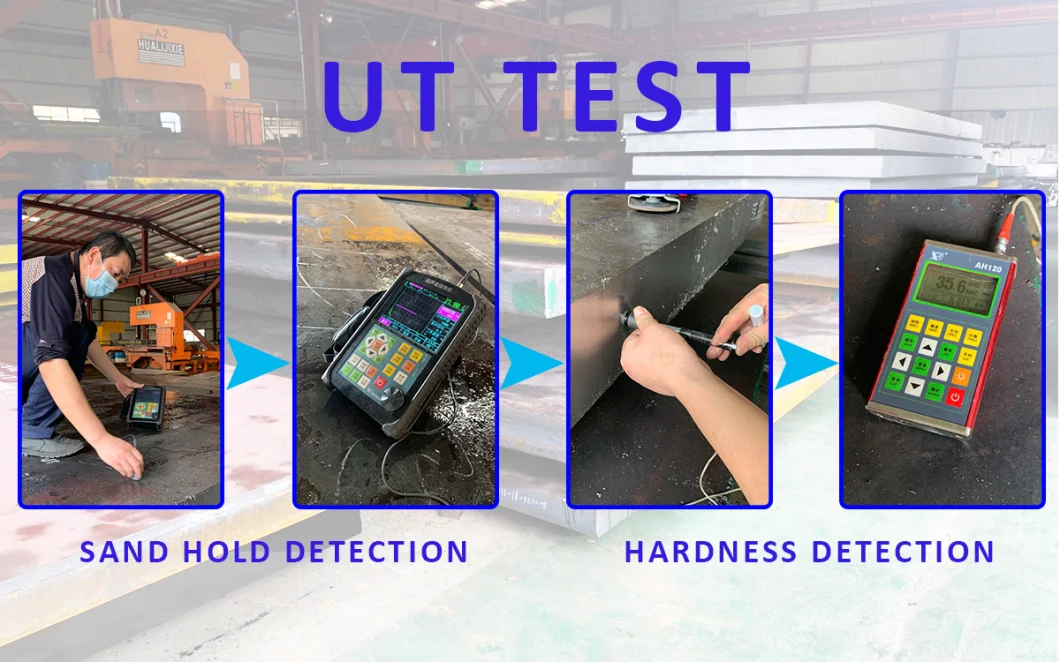 Delivery Service
Provide transportation service to port and door to door
CIF / FOB /EXW.
All doc to you by DHL / UPS to help you clean the customs more quickly.

Delivery Time
1) For abundant stock, 7-15 days.
2) For customized products, 15-30 days.
Loading Details: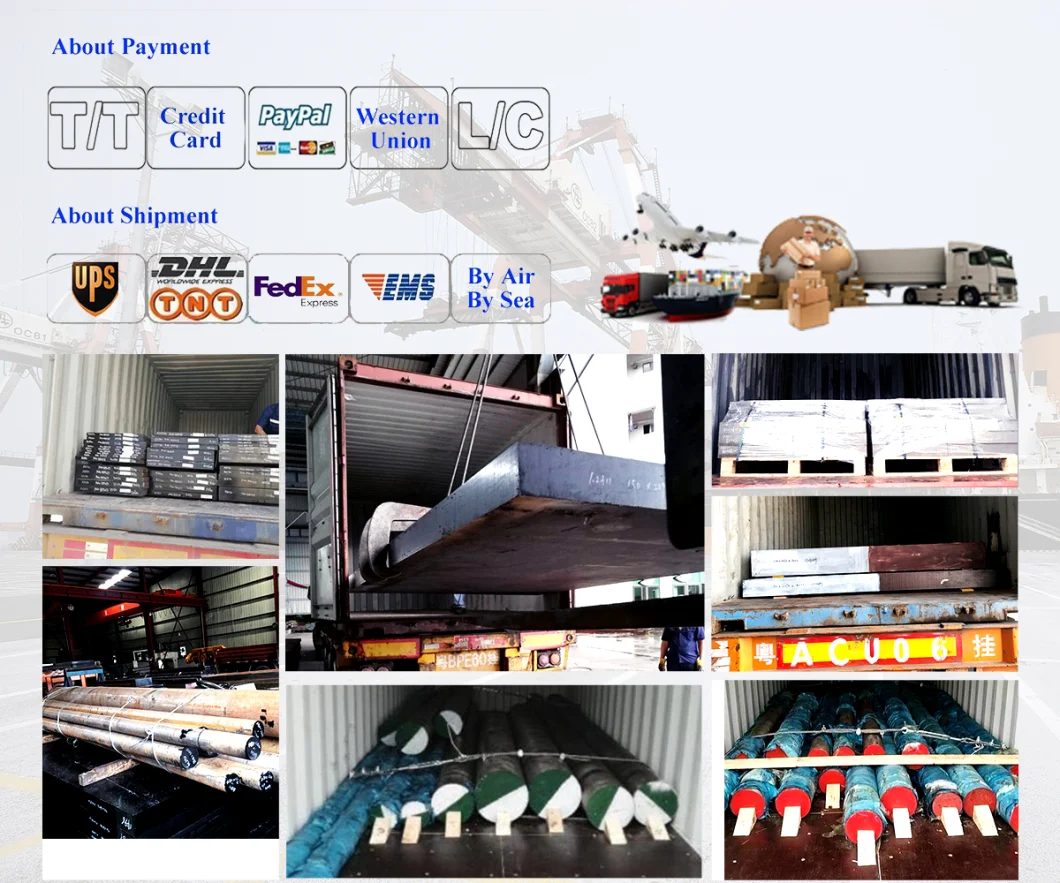 11.FAQ:
Q1: What do you do for the control of the quality?
A1: Before loading into the container, our products will all be inspected by ultrasonic inspection. Quality Grade conforms to SEP 1921-84 E/e, D/d, C/c as per customer's request.
Q2:: What are your hot-selling products?
A2: D2/1.2379, H13/1.2344, CR12MOV, DC53, CR8, abundant stock for both plates and rounds. Competitive prices and short lead-time.

Q3: Can we visit your company and factory?
A3: Yes, warmly welcome! We can book the hotel for you before you come to China and arrange our driver to our airport to pick you up when you come.

Q4: Are you a manufacturer or merely a trader?
A4: We are a group of companies and owned manufacturer bases and trading companies. We specialized in plastic mold steel, hot work mold steel, cold work mold steel, alloy steel for mechanical, high-speed steel, etc. All materials are of high quality and competitive prices.