HD Galvanized Steel Square Pipe
Specifications:
We are manufacture in producing ERW PIPE, HOT DIPPED GALVANIZED STEEL PIPE, PRE-GALVANIZED STEEL PIPE at QINGDAO city of Shandong Province.
1) Product name: Hot dipped galvanized steel pipe.
2) Size: OD 12mm-426mm, Wall Thickness 0.5-10.0mm (SCH30, SCH40, STD, XS, SCH80, SCH160, XXS etc).
Zinc coated: 40-500g/m2.
3) Steel material: Q195 Grade B, SS330, SPHC, S185,
Q215 Grade C, CS Type B, SS330, SPHC
Q235 Grade D, SS400, S235JR, S235JO, S235J2
Q345 SS500, ST52
20#, 45#, A53(A, B), A106(B, C), A269, A312, St37, St52, St42, St45, A369.
4) Standard: BS EN10296, BS EN10025, BS EN10297, BS6323, BSEN10217, GB/T13793-1992, GB/T14291-2006, GB/T3091-1993, GB/T3092-1993, GB3640-88, BS1387/1985, ASTM A53/A36, EN39/EN10219, API 5L, GB/T9711.1-99, BS 1387, BS 4568, GB/T3901, ASME B36.19M-1985.
5) Ends: Plain, beveled, threaded with coupling or caps.
6) Surface treatment: Galvanized.
7) Section shape: Round/Square/Rectangular.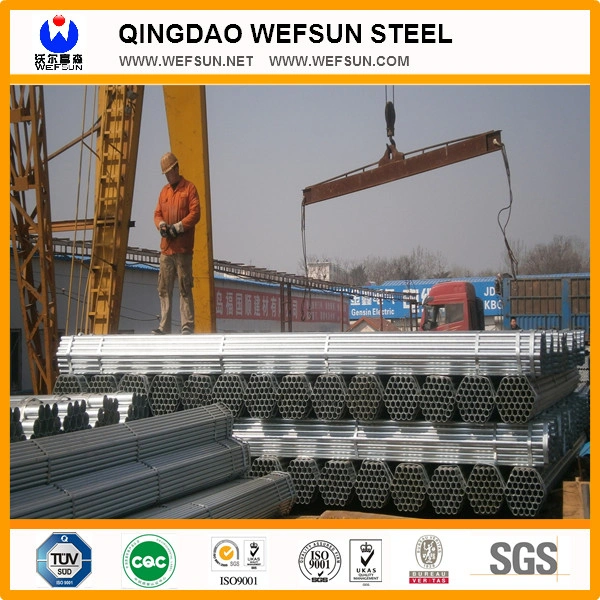 Package:
1) Big OD: In bulk.
2) Small OD: Packed by steel strips.
3) Woven cloth with 7 slats.
4) Plastic bags.
5) As per customer's option.
6) For 20" container the max length is 6m; For 40" container the max length is 12m.
7) We can load 25tons to 27tons per container.
Application:
1) Low pressure liquid delivery such as water, Fluid Pipe, water/oil/gas pipe, conduit pipe, scaffolding pipe.
2) Structure pipe in constructions, Bridge, highway, building materials.
3) Windows of model steel door, fence.
4) Heating facilities.
Specification
OD mm
Thickness
mm
Min thickness mm
Welded pipe (6m)
Galvanized pipe (6m)
Nominal pipe size
inch






kg/m
Pcs / kg
Kg/m
Pcs/kg
DN15
1/2
21.3
2.8
2.45
1.28
7.68
1.357
8014
DN20
3/4
26.9
2.8
2.45
1.66
9.96
1.76
10.56
DN25
1
33.7
3.2
2.8
2.41
14.46
2.554
15.32
DN32
1.25
42.4
3.5
3.06
3.36
20.16
3.56
21.36
DN40
1.5
48.3
3.5
3.06
3.87
23.22
4.10
24.60
DN50
2
60.3
3.8
3.325
5.29
31.74
5.607
33.64
DN65
2.5
76.1
4.0
3.5
7.11
42.66
7.536
45.21
DN80
3
88.9
4.0


8.38
50.28
8.88
53.28
DN100
4
114.3
4.0


10.88
65.28
11.53
69.18
DN125
5
140
4.5


15.04
90.24
15.942
98.65
DN150
6
168.3
4.5


18.18
109.08
19.27
115.62
DN200
8
219.1
6.0 welded


31.53
189.18