Slewing Drives Use for the PV Tracker , CPV . Solar dish , solar tracking system
| | | | |
| --- | --- | --- | --- |
| Model | SC12 | IP | IP65 |
| Brand | Coresun Drive | Available Load Weight | 800-1200kg |
| IP Class | IP65 | Output Torque | 1030N.m |
| Tilting Moment Torque | 54.3KN.m | Holding Torque | 43KN.m |
| Mounting Bolts | M16 | Electrial Motor | 24VDC |
| Gear Ratio | 78:1 | Efficiency | 40% |
Coresun Drive Equipment Changzhou Co., Ltd. Slewing drives function with standard worm technology, in which the worm on the horizontal shaft acts as the driver for the gear. The rotation of the horizontal screw turns a gear about an axis perpendicular to the screw axis. This combination reduces the speed of the driven member and also multiplies its torque; increasing it proportionally as the speed decreases. The speed ratio of shafts depends upon the relation of the number of threads on the worm to the number of teeth in the worm wheel or gear.

Slewing drive is consist of slewing bearing,worm shaft,housing,bearing,motor and so on. Motor drive the worm shaft, the outer ring of slewing bearing will rotate, the outer ring output the torque through flange while the inner ring of slewing bearing is fixed in housing.
Slewing drive is able to sustain more axial load, radial load and tilting moment.Turntable or frame rotate at azimuth and elevation driven by slewing drive.

For slewing drive, there are nine (9) different sizes available from 3" to 25" with more than 60 models to meet both regular and precise tracking requirements in PV, CPV and solar thermal power tracking fields.

Slew Drive is a new type of slewing product, usually called slewing ring, which is usually composed of worm, slewing ring, housing, motor and other components. Since the core components are slewing bearings, they can simultaneously withstand axial forces, radial forces, and overturning moments. Compared with traditional rotary products, the new slewing drive features easy installation, easy maintenance and a greater degree of installation space.
Slew Drive are widely used in PV,CPV,STP solar tracking systems and construction applications including truck cranes, manlifts, turntables, port machinery, modular vehicles, small wind power systems and satellite communications.
Characteristics Of Slewing Drive
By adopting slewing bearing as its core component, slewing drive can bear axial force, radial force and tilting moment simultaneously. Slewing drive is widely applied in modular trailers, all types of cranes, aerial working platform, solar tracking systems and wind power systems.
Electric and planetary gearboxes can be designed according to customer's requirements. Slewing drive has the advantage for saving space in facilities, max load capacity in a compact design, extensive lifespan, and reduced maintenance costs.
Glossary
1) Tilting Moment Torque: Torque is the load multiplied by distance between the position of load and the center of slewing bearing. If the torque generated by load and distance is greater than the rated tilting moment torque, slewing drive will be overturned.
2) Radial load: Load vertical to the axis of slewing bearing
3) Axial load: Load parallel to the axis of slewing bearing
4) Holding torque: It is the reverse torque. When the drive is rotating reversely, and parts are not damaged,
5) The maximum torque achieved is called holding torque.
6) Self-locking: Only when loaded, the slewing drive is not able to reverse rotate and thus called self-locking.
--Customer can choose the motor according to our already designed slewing drive connect dimension.
--We can design the connect structure according to customer's motor connect dimension.
--We can help to provide the whole parts with Hydraulic motor, DC motor, AC motor, Stepper or Servo motor.
Coresun Drive Slewing Drive Motor Production Photo and Application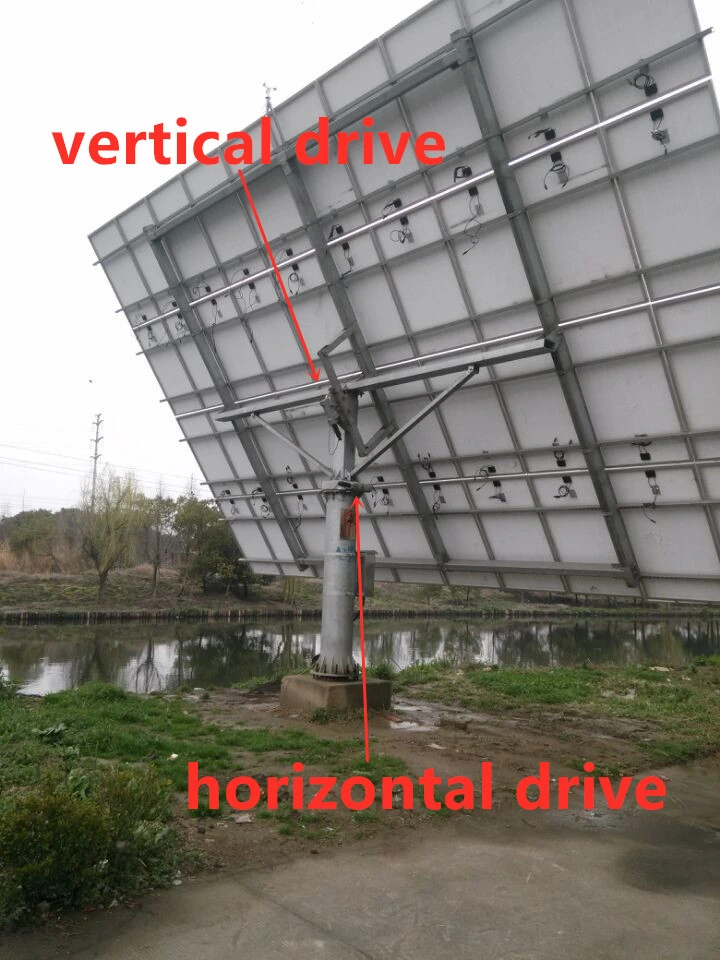 Coresun Drive processes the metallography detection to check the material and organization structure of worm shaft,slewing gear and casting housing.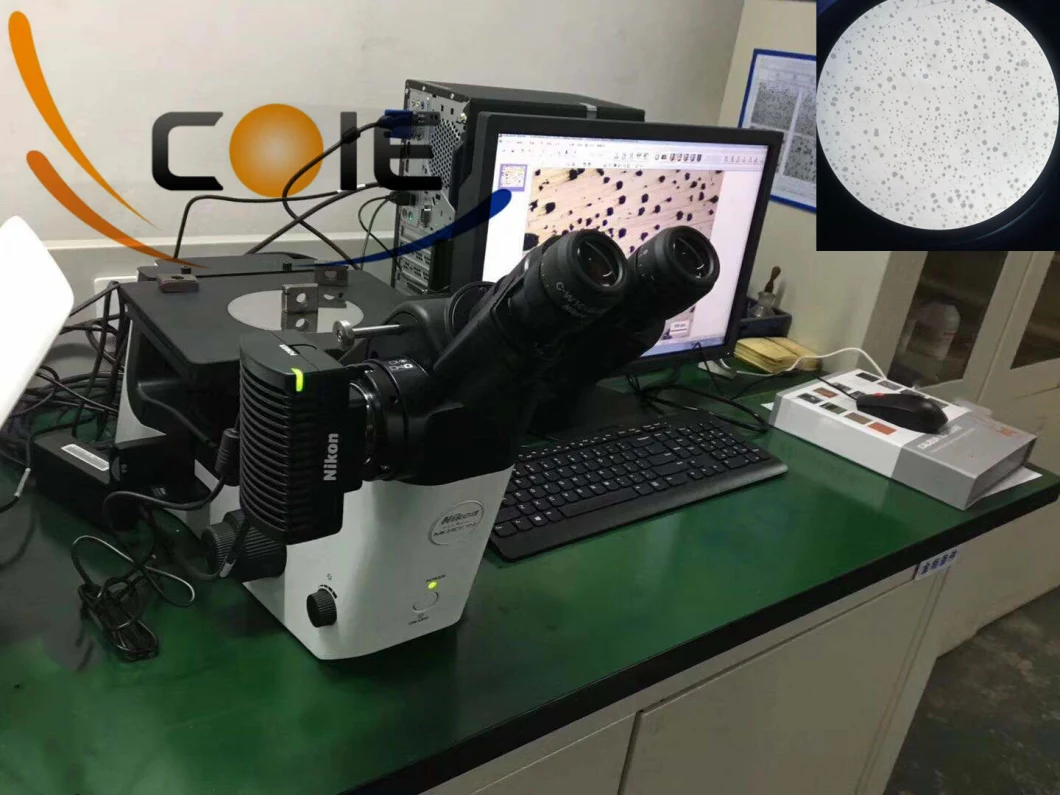 Coresun Drive
test
ing
reports for slewing bearing,worm shaft and finished slewing drive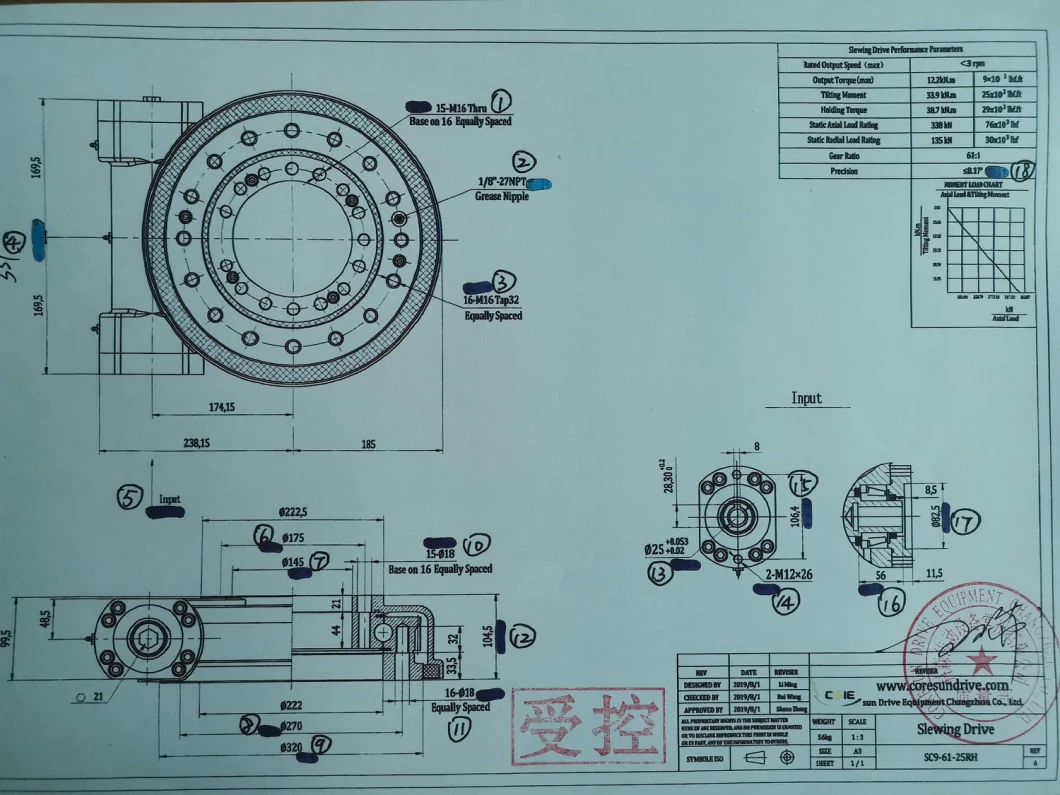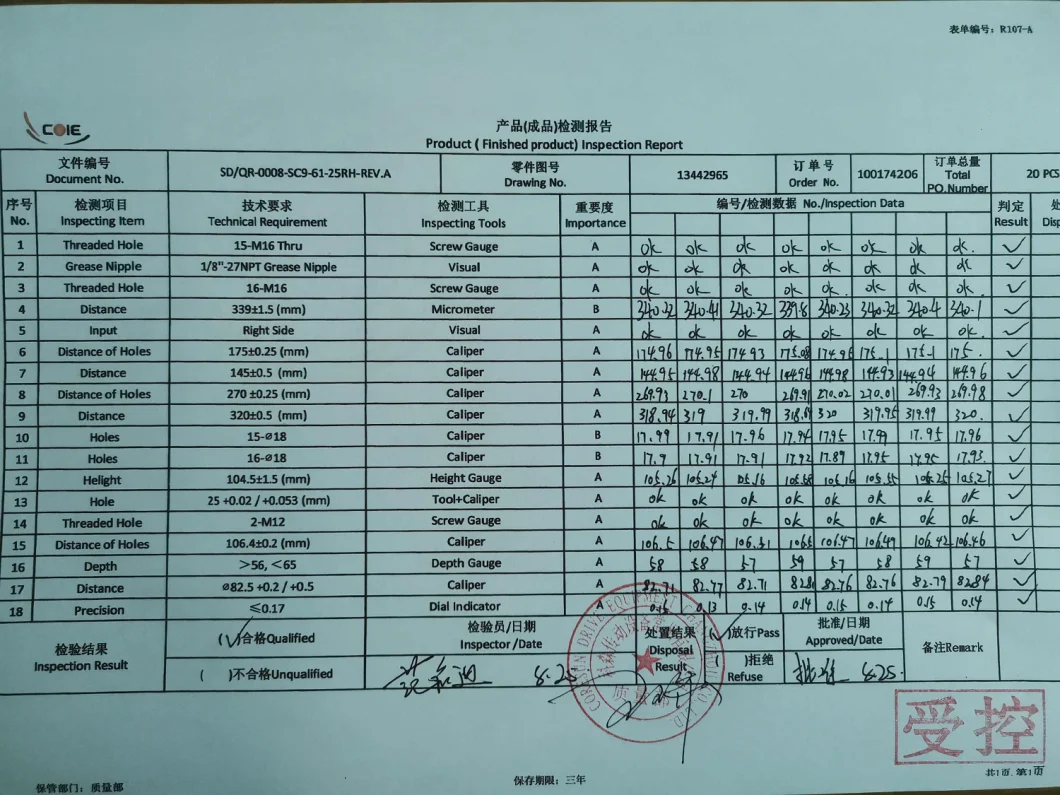 Coresun Drive slewing drive gear motor with 24VDC motor is certificated by CE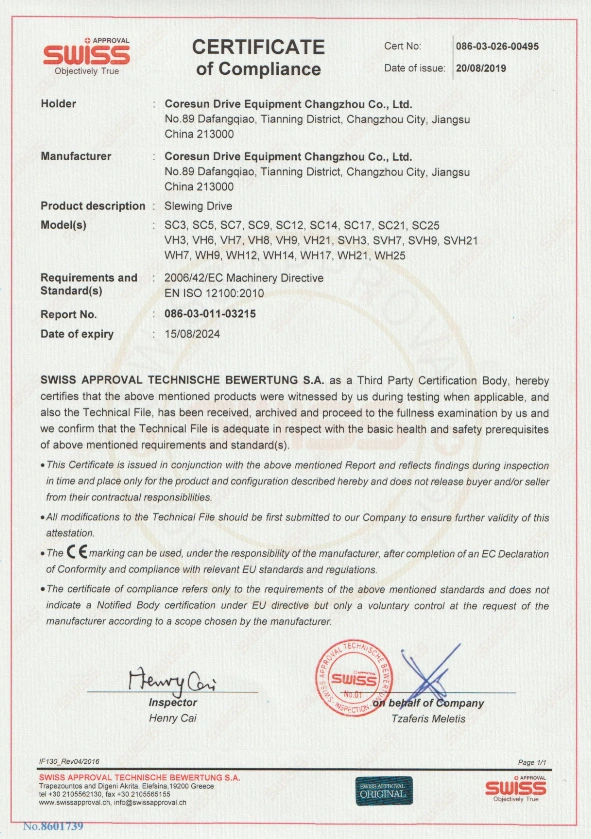 CONTACT US
It is sincerely looking forward to cooperating with you for and providing you the best quality product & service with all of our heart!