Steel EMT Conduit Fitting Pipe Fitting EMT Connector Compression Type with UL Certificate
Description:
Emt connector
Electrical Set Screw Round zinc tube Connector,round aluminum tube connector,EMT Electrical Conduit Fittings,Set Screw EMT Connector
zinc emt connectors are used in dry locations to bond EMT conduit to electrical junction boxes or enclosures. EMT aluminum connectors provide concrete tight connections when taped and properly secured with the included locknut, and are rated for electrical applications above 600 volts. Their heavy gauge steel construction maintains mechanical protection and solid grounding of the conduit to the designated electrical junction box or enclosure.
EMT zinc/Aluminum Connector
American Standard, NPT Thread
UL Standard 514B
Size: 1/2" to 4"
Material: zinc/Aluminum Die Cast
Electrical Set Screw Round Aluminum tube Connector,round aluminum tube connector,EMT Electrical Conduit Fittings,Set Screw EMT Connector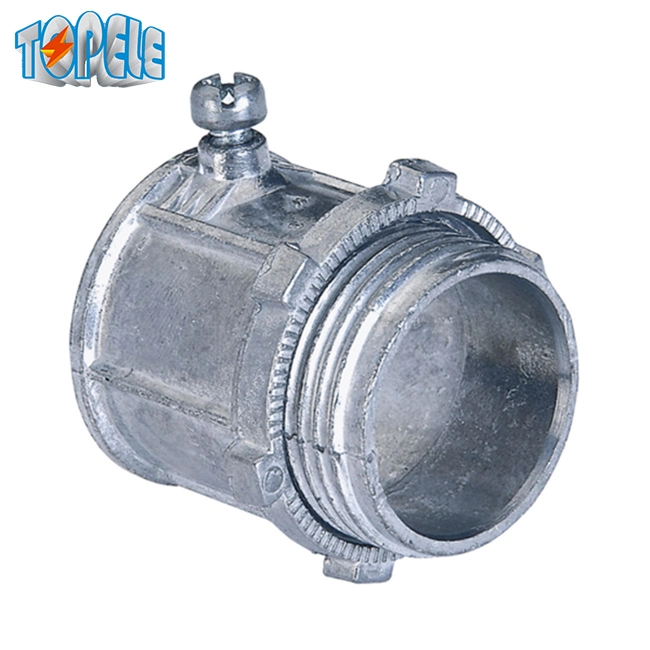 Specifications:
| | | |
| --- | --- | --- |
| SCN-050A | 1/2" | Set-Screw Type |
| SSCN-075A | 3/4" | Set-Screw Type |
| SSCN-100A | 1" | Set-Screw Type |
| SSCN-125A | 1-1/4" | Set-Screw Type |
| SSCN-150A | 1-1/2" | Set-Screw Type |
| SSCN-200A | 2" | Set-Screw Type |
| SSCN-250A | 2-1/2" | Set-Screw Type |
| SSCN-300A | 3" | Set-Screw Type |
| SSCN-400A | 4" | Set-Screw Type |
Applications:
EMT connector: Joins steel EMT conduit to Electrical box
•Connect & effectively bond EMT conduit to steel outlet boxes, load centers & other metal enclosures
•May be used indoors and in concrete-tight applications when taped
•Body and locknut made with die-cast zinc alloy
•Tri-Drive screw head design for use with Phillips, slotted and square screwdrivers
•Screw thread is designed to not vibrate loose
•Reversible locknut designed to cut through protective coatings on boxes & enclosures
•UL standard for safety
•Application type : EMT
•Electrical Product Type : Standard Fitting
•Fitting type : Connector
•Indoor/Outdoor : Indoor
•Paintable/Stainable : No
•Returnable : 90-Day
•Trade Size (in.) : [1/2"] [3/4"] [1"] [1-1/4"] [1-1/2"] [2"]
Electrical Set Screw Round Aluminum tube Connector,round aluminum tube connector,EMT Electrical Conduit Fittings,Set Screw EMT Connector